Thursday, February 17, 2005
You tell me that youíve never been this way before You tell me things I know that Iíve heard somewhere Youíre standing in the places and youíre Staring down through faces, that bring to mind traces Of a boy, a boy that I knew somewhere.
One a penny,two a freakin' penny....
Grrrrrr....I have to low carb my ass of by St Patty's day to get into my "Buy-Me-A-Drink-Skirt"....Satan must be a baker...
Posted at 04:14 pm by melsybop
Permalink
I'm gonna buy me a dog,cause I need a friend nooooooooooow....
Bridie ...she knows LUSH when she smells it...
Oh the life of a dog.....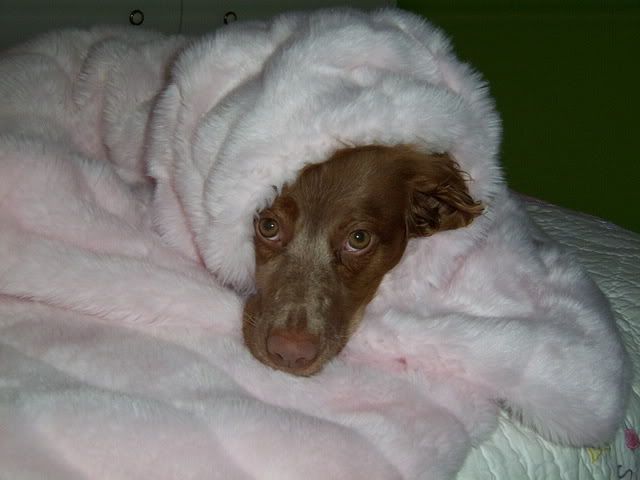 Posted at 09:24 am by melsybop
Permalink
Wednesday, February 16, 2005
With his foolís gold stacked up all around him From a killing in the market on the war The children left king midas there, as they found him In his counting house where nothing counts but more
Hopelessly Devoted to My Addictions...

God help the one who pays for my shopping trips.


Colored plastic Gougounes.
Purses that scream pretentious.
Magazines full of stars I'd like to screw.
Lipgloss I don't need..must be flavored as a kiss may come to those who wait...
My Little Ponies...glitter addict.
WB shows about hot teen dramas...
Fox shows about the hot teens DAD.
Yards and yards of the tackiest fabric I can find.
Rhinestones that would make Glenn Campbell write a song about me.
Long sleeve Tshirts in colors that scream "Mel should NEVER wear that colour with red hair".
Candles that smell like guys in Armani suits coming over to play Sugar Daddy...OOOOO.
Celtic crosses...keeps those damn Irish Vampires at bay....
Please...I could go on.....
Posted at 09:53 pm by melsybop
Permalink
Sunday, February 13, 2005
A little girl goes out walking........
Laurie Anne's L'Aquaflamme...

Why I haven't posted....


Posted at 08:34 pm by melsybop
Permalink
Tuesday, February 01, 2005
And if you ever change your mind Think again and give me time For youíre my first love
Heartbreak rears it's ugly side....

My friend.....




I'm all dressed up in my finest attitude
Pretending I don't care.
Guess I really messed up by trying to be two,
When only one heart can be there.
Why can't I be just what I am,
And speak my love without any shame?
Why can't she see what I am,
Is a costumed fool trapped in a tragic game?

Charades and pretty lies
They hide what's deep inside me.
Charades do disguise
All the love I keep inside me.
Charades! Can't see me,
But can you feel the real me,
The real me behind my charades?

Oh, please don't mind me,
Performing at my hardest
As I paint upon the air.
You won't find me
Cause it's a portrait of the artist
As a man who isn't there.

(Chorus)

Can't you feel the real me,
Behind my charades?
Have I lost the real me,
Behind my charades?


Michael: Stephanie, please don't cry !
Stephanie: Oh, it all seems so unfair, just when I found you I lost you !
Michael: That doesn't matter now, the only thing that matters is that I love you ! And you're the only one who can keep our love alive, so Stephanie, don't forget me !
Stephanie: I promise !

Posted at 12:38 pm by melsybop
Permalink
Thursday, January 27, 2005
CDs killed the freakin album star......
To prove once more that I have more than time on my hands.......

More bloggin...nothing to say.Dressmakah'
Posted at 10:34 am by melsybop
Permalink
Iím gonna buy me a dog,ícause I need a friend now
How adorable!!!!
Little gloves must now be worn on cocks during cock fighting.Cock Fight Rules!

They will be fitted with electronic vests that keep tabs of *hits* so it is a fair fight!

I am anxiously awaiting mini BEAK PIECES!!!!

The whole thing just smacks cute!!!Need to delay my career as a dressmaker to custom make little Satin robes!
Posted at 01:28 am by melsybop
Permalink
Friday, January 21, 2005
Fine man, crazy man, he can't see Sound of the sunset, sound of the sea Why do the people always look at me?
I've Got Friends In Low Places...

Or would it be FIENDS...............



So I mentioned how cute I thought my

messageboardmate's photoshopped

picture of her and Bert on the Jerry

Springer show was...but how I had

admired the girl on the far left due to her

stunning 'fro and headband a la Mike

Reno from Loverboy(he comes up ALOT

lately) and I awoke to this in threads over

there...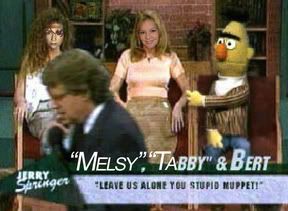 Yup...that would be my picture on the far left.
:dies:
Posted at 01:48 pm by melsybop
Permalink
Thursday, January 20, 2005
But is may come 3-2-1-2 Or jump from 9 to 5 And when you see an end in sight The beginning may arrive
I am SO outta the loop.......






Please tell me..........

Is it now OK to play Sun City???

No one is writing songs about it anymore.

Without the songs how will we know what to do...are we NOT the MTV generation??

Ickky singing star Josh Groban played Superbowl Sun City this past November.News Buzz I am late with...

Before that Fellow Canuck Bryan Adams played...all the way back in 1994..Things they forgot to tell me in 1996....

Where have I been????

I need to get my nose outta Degrassi reruns and get with the real world.
I wonder if Bono is sunnin' his white ass on their beaches yet????


Posted at 04:04 pm by melsybop
Permalink
Wednesday, January 19, 2005
It's a little bit me,it's a little bit you,,,too,,,,
I *HEART* Hearthrobs...........

keeping with the theme...

Splendor in the grass.........



Posted at 04:33 pm by melsybop
Permalink